The UCLA Undergraduate Computational and Systems Biology Seminar Series is aimed at supporting undergraduates in the Computational and Systems Biology Program by exposing students to professionals in the field. The series aims to support the professional interests of the students in the program by hosting speakers from the quantitative biology industries as well as academia. By hosting a diverse group of speakers, we hope to help students better understand and explore career paths available to them.
Contacts:
Annelise Werhel (Academic Counselor)
Email: casb@lifesci.ucla.edu
CaSB Strategies for Finding Research Event in Partnership with the Undergraduate Research Center
Wednesday 10/20 4-5 PM in Hershey Hall 158 and recorded
RSVP: https://forms.gle/mSa1PqGjXB6W5LfV6 
Designed to demystify the process of finding research, this event will include a presentation from the Undergraduate Research Center on how to find STEM research experiences, an overview of CaSB-specific research expectations for the Capstone requirements ,and a panel of current CaSB students to discuss their experiences finding and doing computational biology research!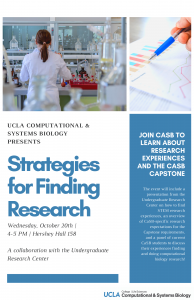 CaSB Research Expo
Thursday 10/28 4-6 PM in Hershey Hall 158
RSVP: https://forms.gle/f731xVVSh58fGA6T8
Looking for research? Join us for a poster session featuring computational biology labs from across campus! Learn about ongoing research projects at UCLA, meet faculty and lab members, and explore opportunities to get involved in research!
Spring 2021
May 5th, 2021
4:00-5:00 PM
CaSB Virtual Grad School Panel
Winter 2021
February 8th, 2021
5:00-6:30 PM
CaSB Virtual Alumni Panel
February 17th, 2021
4:00-5:00 PM
CaSB Research Talk
Dr. Matteo Pellegrini, Professor
Dr. Aaron Meyer, Assistant Professor
Fall 2020
November 9th, 2020
4:00-5:00 PM
Strategies for Finding Research
Spring 2020
April 8th, 2020
6:00-7:30 PM
CaSB Virtual Alumni Panel
Winter 2020
March 3rd, 2020
12:00-1:00 PM
CaSB Research Talk
Dr. Eric Deeds, Associate Professor
Dr. Xia Yang, Associate Professor
Fall 2018
November 13th, 2018
Dr. Sri Kosuri
Assistant Professor UCLA Department of Chemistry and Biochemistry and Co-founder, Octant
"Perspectives on going back and forth between Academia and Industry"
October 16th, 2018
Dr. Llewellyn Cox
Founder and CEO, Bio-Built and Adjunct Professor in Translational Genomics at Keck School of Medicine
"New and Emerging Opportunities in the LA Bioscience Ecosystem"
Spring 2018
May 24th, 2018
Nandini Chitale
Amgen Inc.
"Designing a Career in Digital Health"